Computers and Technology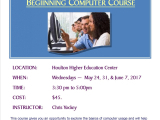 "Beginning Computer" Course
with Chris Yockey

May 24, 2017 at 3:30 pm
, runs for 3 weeks
This Course gives you an opportunity to explore the basics of computer usage and will help with getting you started from the ground up. You do not need your own computer, but, if you have a laptop that you wish to get familiar with, plase bring it with you.
Excel for Business Success
with Chris Yockey

May 24, 2017 at 5 pm
, runs for 3 weeks
Hands on course to expand your understanding and help your business needs.