Filter by Category
Home & Family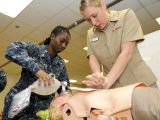 CPR/AED/First Aid Training, BLS if needed
with Melanie Greaves

Next available session starts Apr 6, 2023 at 4 pm
Through the American Red Cross.
CPR/AED/First Aid Flyer April 6, 2023

BLS Training is available.  Contact us if you require BLS Training.
Upon successful completion of this course, you will earn a certification that satisfies OSHA-mandated job requirements, workplace or other regulatory requirements, and is valid for 2 years. 
Widows Support Group For Females
with Debbie Henderson

Next available session starts Apr 25, 2023 at 5 pm
Widows Support Group For Females

Tuesday, April 25, 2023, at 5pm will be an informational meeting.  
We will focus on women who have fought along side their husbands to their end.