Tools and Trades
Registration Unavailable
Welding ~ Intermediate Continued 103
with Richard Mitchell III

Jan 18, 2017 at 3:30 pm
, runs for 5 weeks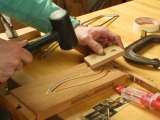 Registration Unavailable
Woodworking
with FRED PELLETIER

Oct 6, 2016 at 5 pm
, runs for 8 weeks
CALL 521-3100 ext. 5 or EMAIL patricia.sloat@rsu29.org. This course is designed for all levels of experience. It will cover woodworking safety, hand tools, power tools, and help you design & build your own project.
Eight classes run on Thursdays from October 6-December 1, 2016. The courses take place in the industrial arts area at Houlton High School. Course instructor is Fred Pelletier.
Fees are $50 and bring your own materials to build your next dream project!
Registration Unavailable
Woodworking
with Fred Pelletier

Feb 2, 2017 at 5 pm
, runs for 8 weeks
Topics Covered:
Woodworking Safety
Woodworking with Hand Tools
Woodworking with Power Tools
Design & Build Your Own Project